An American couple who bought a luxury suite on a cruise ship says they have already made $1.3 million from it without doing anything. The ship will go on its first voyage only in 2025, writes The Sun.
Misty Frost and her partner Dean Brederson were among the first people to buy a cabin on the new MV Narrative, a mega-cruise ship with 500 private rooms and suites. A couple from Salt Lake City originally paid $3 million for the 220-square-meter apartment with one bedroom, a walk-in closet, two bathrooms, and a balcony.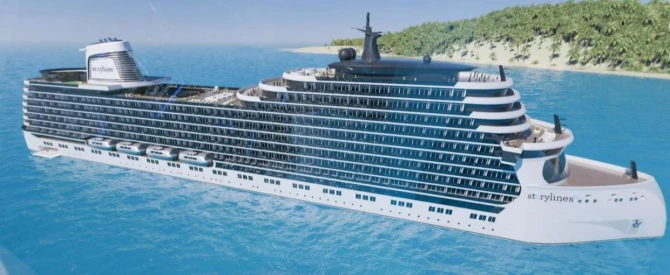 "We didn't buy the cabin as a place to sleep or watch TV, it's about owning real estate on this particular ship. The ship itself is somewhere between a luxury yacht and a cruise ship, as the design and what will be on the ship is incredible. You buy into the idea of a floating city," Misty Frost said.
Permanent residents on MV Narrative will have access to medical care, a farmers market, separate kitchens, a gym and spa, 24-hour room service, and co-working spaces. There will also be 20 restaurants and bars on board, a swimming pool, a school, a library, a bank, a cinema, and a champagne and whiskey bar.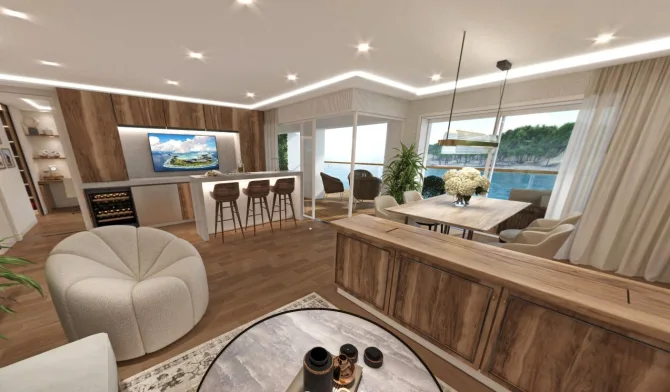 "Another thing that attracted me was that the world is huge. There are many things I want to see and do. And traveling the world is becoming very expensive," added Misty.
Friends and family of the couple asked why they spent so much money on a small apartment. However, Misty and Dean claim that their cabin on the liner has already increased in value and is now valued at $4.3 million, meaning they even made $1.3 million on it.
The cruise liner MV Narrative will be home to around 1,000 residents when it is launched in 2025. The ship is scheduled to dock at each port for approximately 3-5 days. Passengers can expect to visit such popular destinations as Rome, Naples, and Venice.