During the excavations carried out in the west of Turkey – in the ancient cities of Troy in the province of Canakkale and Aizanoi in the province of Kutahya, a lot of important information was obtained and finds were found that tell about the history of both regions.
The ancient city of Troy, located in the vicinity of the village of Tevfikie near the city of Canakkale and considered one of the most important archaeological sites in the world, sheds light on history with its excavations.
In the ancient city of Troy, which has a history of more than 5 thousand years, official excavations began 150 years ago, and during this period many archaeological discoveries were made. Visitors' attention is also drawn to the Troy Museum, located at the entrance to the ancient city and opened with the participation of President Recep Tayyip Erdogan on March 18, 2019. The area of ​​the museum is 12,750 square meters.
The ancient city of Troy, included in the UNESCO World Cultural Heritage List, is one of the favorite places for cultural tourism. Thanks to the artifacts found here, Troy contributes to the cultural heritage of the whole world.
In an interview with the Anadolu agency, Professor Rustem Aslan, a teacher at the Department of Archeology at Canakkale University on March 18 and head of the delegation for the excavation of the ancient city of Troy, said that ancient Troy, which has a 5500-year history, is located in a very important geographical region.
According to him, 2021 will be a special year for Troy, as this year marks the 150th anniversary of the start of official excavations in the ancient city.
"For 150 years, a large number of archaeological discoveries have been made in Troy. The finds and archaeological discoveries made have shed light on a part of world history, "Aslan said.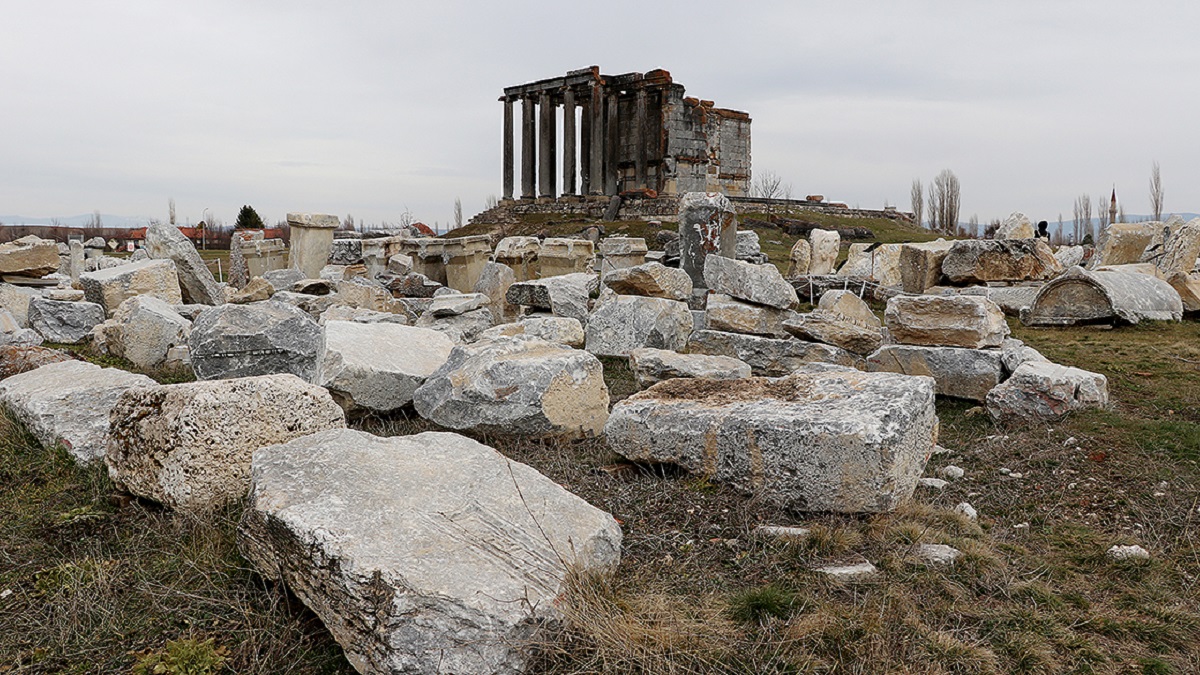 The professor noted that the 150-year period was marked by very significant events, including the creation of the Historical National Park of Troy, its inclusion in the UNESCO World Cultural Heritage List and the opening of the Troy Museum.
"We will continue to carry out archaeological excavations in Troy and, through the finds, shed light on history," Aslan said.
Another ancient city – Aizanoi, located in the Chavdarhisar region of the Turkish province of Kutahya, 50 kilometers from the administrative center, annually receives about 60 thousand local and foreign tourists.
The city was included in the provisional UNESCO World Heritage List in 2012. At the moment, efforts are ongoing to ensure that the cultural heritage of the city remains on this list.
The ancient city of Aizanoi, dating back 5 thousand years, is also called the "Second Ephesus".
In the ancient city there are such ancient buildings as the Temple of Zeus, an amphitheater, a stadium, two baths, a hamam with a mosaic, a street with a colonnade, 5 bridges, two agoras (market squares), the Sanctuary of Metra Stoinene, a necropolis (cemetery), an ancient dam.