Thailand, one of the most popular tourist destinations in Asia, known for its rich culture, excellent cuisine, and sunny beaches, is very affordable. Let's consider what are the prerequisites for this, so as not to make a mistake with the rest.
Why is Thailand so cheap?
Prices in Thailand are acceptable for the average tourist – this was the conclusion of The Thaiger experts and recommendations for rest. The cost of living and everyday shopping is much lower than in other Western countries. This means that tourists can see the sights, eat delicious food and stay in cozy hotels for a fraction of the price compared to other popular tourist destinations.
Which place in Thailand is the cheapest?
There are many cities, villages, and islands in Thailand that are inexpensive to visit. In general, resort areas and tourist destinations are more expensive in terms of travel costs. However, experts urged not to despair, because traveling on a budget is still possible in these places. Here are some options for where to go so you don't make a mistake:
The capital city of Bangkok is one of the most accessible for travelers. There are high-end hotels, restaurants, and shops, but there are plenty of inexpensive options. Tourists can choose hostels for the night for a few dollars, eat street food and buy cheap souvenirs.
Chaing Mai, a mountain-surrounded city in northern Thailand, is also known as an inexpensive travel destination for culture and history buffs. The popular place among travelers offers not only expensive booking options but also affordable hostels, where the cost of a bed is about $5 (about UAH 200) per night.
In the beach province of Krabi, located opposite the resort island of Phuket, savvy tourists can also avoid expensive hotels and restaurants. And just like wealthy vacationers, enjoy a relaxed tropical atmosphere without limiting your budget.
If island hopping is on the itinerary, there are several less expensive options. For example, Koh Lanta and Koh Chang. They are ideal for those who want to experience authentic island life without the high prices and crowds found on the famous islands of Phi Phi and Samui.
The average cost of a trip to Thailand
Thailand is a country that is so far happy to see all types of tourists: rich and poor. However, the authorities have long discussed the possibility of eliminating the arrival of budget tourists. However, until this happened, it is easy to get to the "land of smiles" and it is not necessary to spend hundreds of thousands of hryvnias to get a luxurious vacation. For frugal travelers, $20-30 per day is enough to eat and pay for overnight accommodation. Unlike in Egypt, you can use public beaches for free. Without money, you can go on a walking tour on your own, having planned the route. If you want to relax with a more extensive program, you should plan $50-75 per day. This money will be enough for the tourist not only for entertainment, and drinks but also for transport in addition to a separate room in a hotel or hostel.
Finally, travelers who prefer a luxury vacation tend to spend $200-300 per day. This includes a stay in a good resort hotel, fine dining, or private tours and excursions.
Cost of accommodation
If travelers are on a budget, it's easy to find accommodation in Thailand for a few dollars a night. For example, a bed in a hostel will cost $5-10, while a private room will cost $10-20, and a private room in a mid-range hotel will cost $20-40 per night.
In more exclusive holiday areas, such as Phuket, Samui, and Phi Phi, housing is an order of magnitude more expensive. Despite this, tourists flock to these resort towns in droves. As a result, the cost of beach bungalows and five-star resorts can vary from $200-400.
Food costs
Thai cuisine is famous all over the world, and it is unlikely to be better or cheaper than directly in Thailand itself. Street food is everywhere. Every hour throughout the day, vendors sell drinks, snacks, and meals – this is their main source of income. And in most cases, street food is tasty, safe, and cheap.
Prices vary depending on the dish. For reference: desserts and light snacks – are about $1, noodles and soup – are about $3, and fish, and meat – are $5. The peculiarity of Thai food is that you can eat out with a limited budget in Thailand in a completely royal way. Most vegetarian dishes in a family restaurant will cost $3-5, while meat or fish dishes – are $7-8. As for high-class restaurants in Bangkok or Phuket, there are mostly "Western" prices – it's expensive for a budget tourist.
By Western and Ukrainian standards, alcohol is inexpensive in bars and restaurants in Thailand. That's with an exorbitant alcohol tax. For example, a large bottle of beer will cost $1-2, while a glass of wine – is $3-4, and cocktails with imported alcohol – are $6-10.
Entertainment expenses
In Thai cities, travelers enjoy attending cooking workshops or watching a live Thai boxing match. Near the beach, guests of the country can go on excursions such as snorkeling, diving, and boating.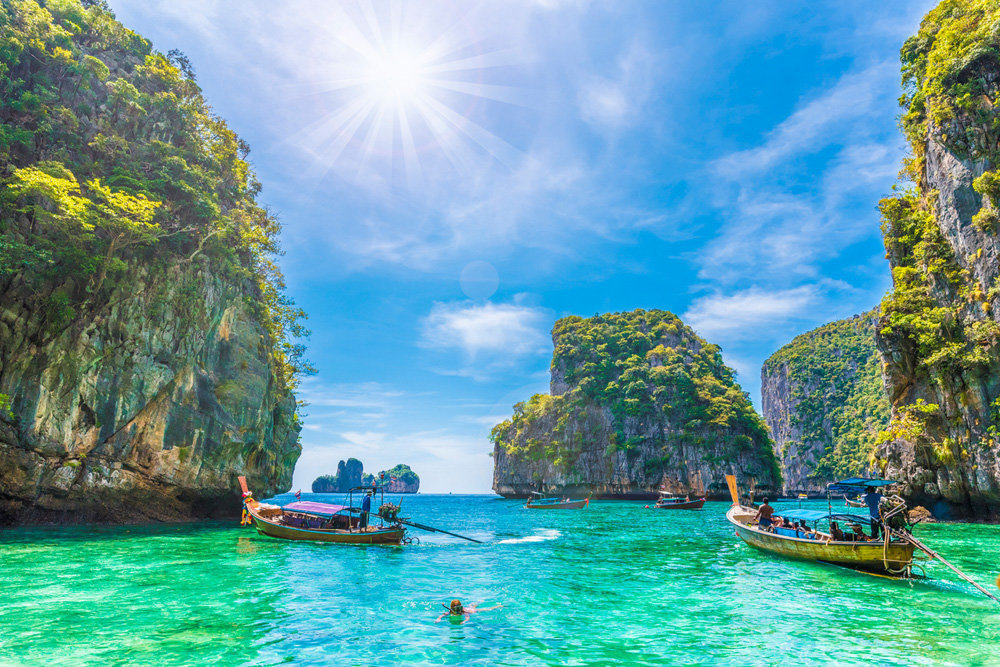 Of course, tours and excursions vary greatly in price and quality depending on where the tourist is. According to the experience of many travelers, an expensive excursion does not always mean high quality. Experts recommend that you familiarize yourself with reviews or research about the service in advance. If there is no money, a free vacation is suitable: a stay on a public beach, a climb to the top of a mountain, or a walking tour of the city. Many temples in Thailand also offer free entry and provide a great opportunity to experience the local culture.
Transport costs
There is good news for tourists planning a trip to the country: transportation in Thailand is inexpensive. The popular Asian country has a well-developed railway system that can take travelers to different cities. For example, a ticket from Bangkok to Chiang Mai costs only $15-30 – the final price depends on the type of ticket and class of service. There are also intercity buses. Although they are not as convenient as trains, they are cheaper and allow you to travel to more countries.
Most people in Thai cities use taxis, motorbikes, or tuk-tuks. Taxis are the most expensive option, but they are still relatively inexpensive compared to Western prices and quite comparable to Ukrainian prices. Yes, a trip around the city will cost $3-8. Traditional taxis are more expensive than motorbikes and tuk-tuks. However, they can also be more dangerous and reckless, especially during rush hour.
In addition, one nuance can be considered a disadvantage: places for people and luggage are limited, so they are not suitable for groups or families. Bangkok also has an overland railway with two lines running through the city. A one-way ticket will cost approximately 20 hryvnias, and an all-day ticket will cost 70 hryvnias.