Crowds of tourists gathered at Phanom Rung Historical Park in Isaan Province in Buriram, Thailand to witness the solar phenomenon that only happens four times a year.
According to detailed information from the Thai mass media, the rare phenomenon is that through 15 wide open doors, at a certain hour, the sun appears for a few seconds. Numerous tourists gather in anticipation of this natural phenomenon that fascinates the eye.
Background: Phanom Rung Temple is located on Mount Phanom Rung in Tapek Sub-District, Chaloemprakyat District, Buriram Province. The temple, built in the XV-XVIII centuries, is made of pink sandstone in the ancient Khmer architectural style. The name of the temple also comes from the Khmer language, which means "big mountain".
The solar phenomenon made the added historical attraction even more attractive. It is known that the phenomenon of the sun can be observed through the doors of the temple four times a year. Dates may vary from year to year, but generally, adhere to the following temporal guidelines:
Sunset from March 5 to 7
Sunrise from April 3 to 5
Sunrise from September 8 to 10
Sunset from October 5 to 7
September 8, 2022, was the first day of the third solar phenomenon of the year. Many tourists flocked to the historic park last Thursday morning to get their best shot of the sunrise through the 15 doors. Volunteers gathered at the site from 5:50 a.m. in a matter of seconds. According to the report, this time the light from the sun was not as bright as the tourists expected because it was cloudy in the morning.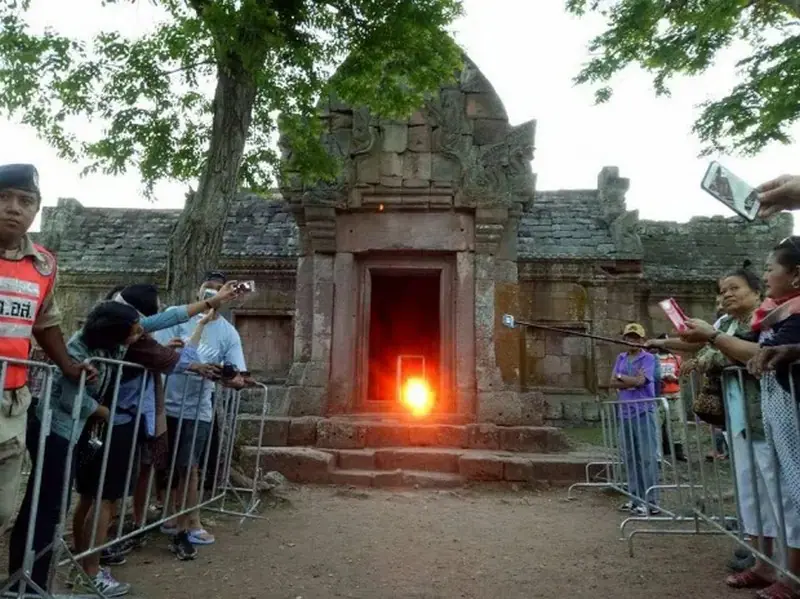 One traveler told the media that he enjoyed watching the sunrise at the temple. It was worth visiting there, even if the phenomenon was barely noticeable and the clouds prevented a clear shot, he said. However, tourists still have two days left to see the iconic sunrise at the temple. The phenomenon is expected to repeat itself on September 9 and 10.
Travelers have another reason to visit a historical place in Thailand. It is currently hosting the annual Phanom Rung Festival 2022. A parade, religious ceremony, performance, and street food await all guests.