Following the signing of a historic peace agreement at the Persian Summit in Al-Uli, Qatar intends to establish relations with a number of GCC countries. In particular, the end of the boycott means the resumption of travel and trade relations between Qatar and the United Arab Emirates, as well as the rest of the region.
Qatar Airways routes and networks
The recently obtained permit to fly over the rest of the region's airspace means that the entire global Qatar Airways route, consisting of more than 130 destinations, will be easily accessible to UAE travelers. They now also have the ability to connect to Qatar Airways' large global network of more than 800 weekly flights to more than 120 destinations.
Flights to and from Dubai
On January 27, 2021, Qatar Airways began operating two daily flights to Dubai International Airport (DXB).
QR1018 Doha 19:00 – 21:10 Dubai
QR1002 Doha 01:00 – 03:10 Dubai
QR1003 Dubai 05:30 – 05:40 Doha / Dubai 06:00 – 06:10 Doha
QR1019 Dubai 22:40 – 22:50 Doha
Flights to and from Abu Dhabi
From January 28, 2021, a daily flight on the route Doha – Abu Dhabi (AUH) is offered according to the schedule below.
QR1054 Doha 19:50 – 21:55 Abu Dhabi
QR1055 Abu Dhabi 23:25 – 23:35 Doha
International destinations Qatar Airways
International travelers from the UAE can once again take full advantage of Qatar Airways' extensive international network. Covering more than 130 international destinations, travelers should experience the highest experience in international flights, emphasizing comfort, safety and first-class services. Here are some international destinations of Qatar Airways available for travelers departing from the UAE.
Amsterdam, Bali, Bangkok, Barcelona, ​​Berlin, Boston, Budapest, Cairo, Copenhagen, Delhi, Frankfurt, Geneva, Istanbul, Johannesburg, Kuala Lumpur, Los Angeles, Madrid, Maldives, Malaga, Miami, Seychelles, Sielet Sofia, Venice, Vienna, etc.
Flight from Qatar Airways
Qatar Airways is renowned for its emphasis on passenger safety and well-being. Here are some benefits that customers can enjoy flying on an airplane.
Fly calmly
The airline is a proud recipient of the 5-star COVID-19 safety rating from Skytrax, the first airline in the world to achieve this monumental feat. Qatar Airways has also achieved a diamond standard with the SimpliFlying Audit Air Passenger Safety Association (APEX).
Qatar Airways is also ready to include another innovative safety feature in the form of 100% in-flight entertainment technology "Zero-Touch". Zero-Touch technology will allow passengers to connect their personal electronic devices to the IFE screen on the back of the seat, connecting to Wi-Fi "Oryxcomms" and simply scanning the QR code displayed on the screen.
This feature will allow passengers to minimize superficial contact while taking advantage of approximately 4,000 entertainment offerings with the award-winning Oryx One in-flight entertainment system.
#QatarAirways will be the first global airline to offer passengers 100% Zero-Touch technology, allowing passengers to use their own personal electronic devices with our Oryx One in-flight entertainment system.

? https://t.co/1I7pZMS7sJ pic.twitter.com/eEIrEgutZO

— Qatar Airways (@qatarairways) February 19, 2021
In addition, Qatar Airways is set to become the first airline in Europe, the Middle East and North Africa to offer business and business passengers the ability to pair their personal Bluetooth headsets with an IFE on-board system in all cabins of the Boeing 787-9 fleet.
Enjoy the awards of Qatar Airways QSuite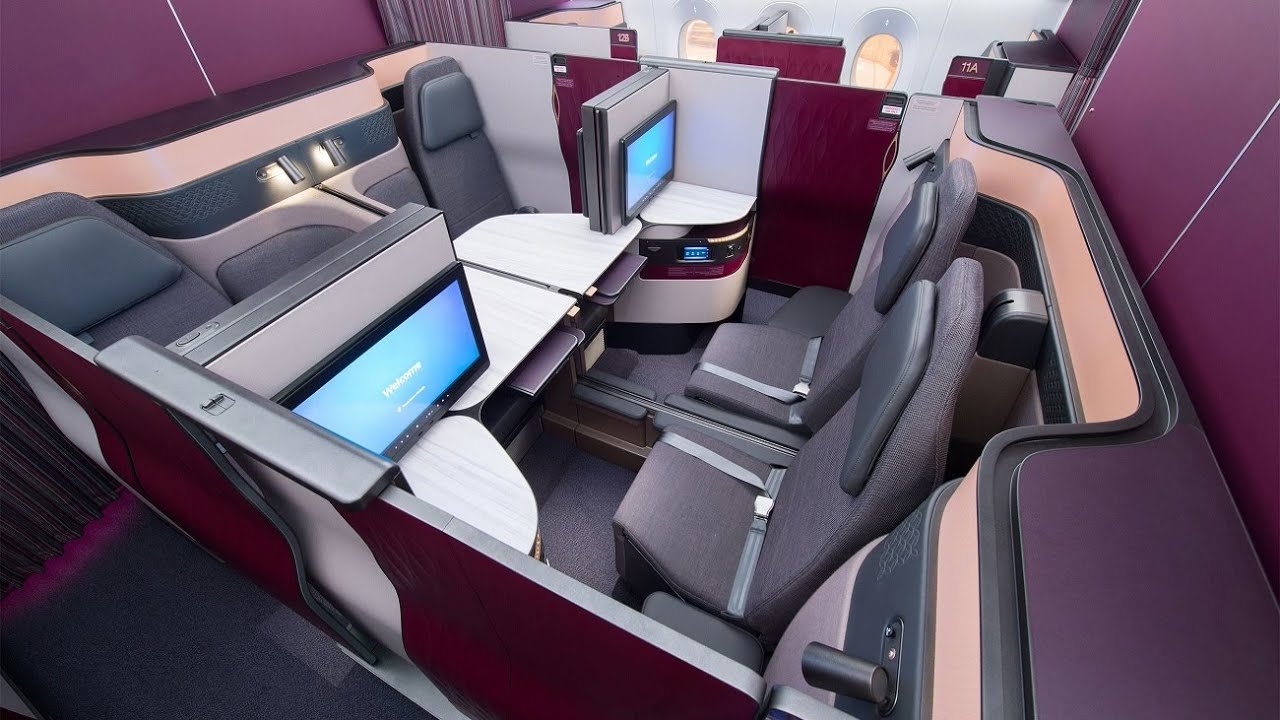 QSuite Business Class allows travelers to enjoy an unrivaled level of comfort and privacy during their long flights. As recognized by the Skytrax World Airline Awards 2019, QSuite has distinguished itself among its peers by offering passengers a fully reclining seat, doors and partitions that guarantee complete confidentiality.
Complemented by generous storage space and a pleasant kitchen, QSuite offers a new standard of comfortable flight.