A military parade in connection with the celebration of Pakistan Day, previously postponed due to "bad weather", was held in the capital on Thursday in the Main Square near the Shakarparyan hills.
The ceremony began with a flight of Pakistani Air Force and Navy fighters led by Zahir Chief of Staff Ahmad Babar Sidhu, who greeted the president.
Fighters F-16, JF-17, Mirage, AWAC, P-3C Orion and ATR took part in the flight.
Contingents from the Pakistani Army, Pakistan Navy, Pakistan Air Force, Special Services Teams, Border Corps, Rangers, Islamabad Police, Border Police, Airport Security Forces and Boy Scouts marched past the podium to greet key guests.
JF-17 and Sherdils performed acrobatic maneuvers, painting the sky with countless colors while the enthusiastic audience greeted them.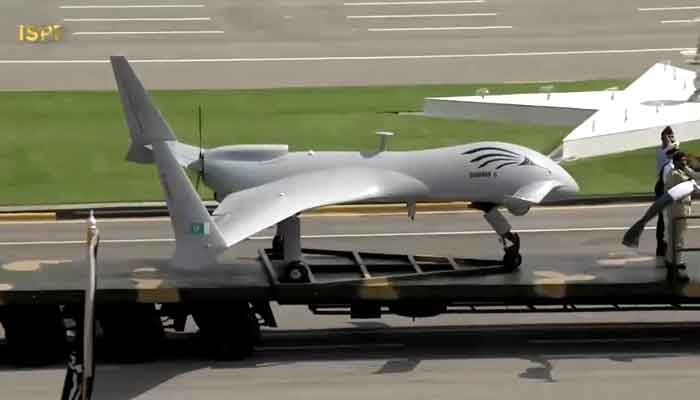 A modern drone is demonstrated during a military parade.
A modern drone is demonstrated during a military parade.
The report also said that as a sign of strong ties between Pakistan and Turkey, the Turkish fighter also demonstrated a number of excellent maneuvers. The Turkish military band also surprised the audience by performing national songs.
In his speech, President Alva said that Pakistan has everything necessary to protect its territorial integrity and sovereignty, categorically stating that any intervention will receive an appropriate response, according to Radio Pakistan.
"We will defend our independence at any cost," he said. However, he added that Pakistan wanted peace, security and development throughout the region and had taken practical steps to achieve that.