Due to the war unleashed by Russia on its territory, Ukraine is predicted to be among the most dangerous countries in the world in 2022 according to the Global Risk Assessment.
This is evidenced by the data of the Global Guardian annual rating.
Thus, analysts gave Ukraine an "extreme" burgundy rating, which is usually given to countries on whose territory there are active hostilities or an uncontrollably high level of crime is recorded. Experts recommend refraining from visiting such countries. A year ago, Ukraine had an average level of danger.
In addition to Ukraine, such countries as Libya, the Central African Republic, Yemen, Somalia, Burkina Faso, Syria and Afghanistan were recognized as extreme.
In addition, Ukraine was additionally labeled as a country with "geopolitical risks", on the territory of which cold, warm and hot conflicts continue. Businessmen and travelers working in these regions should actively monitor political events and be prepared for rapid changes in the situation.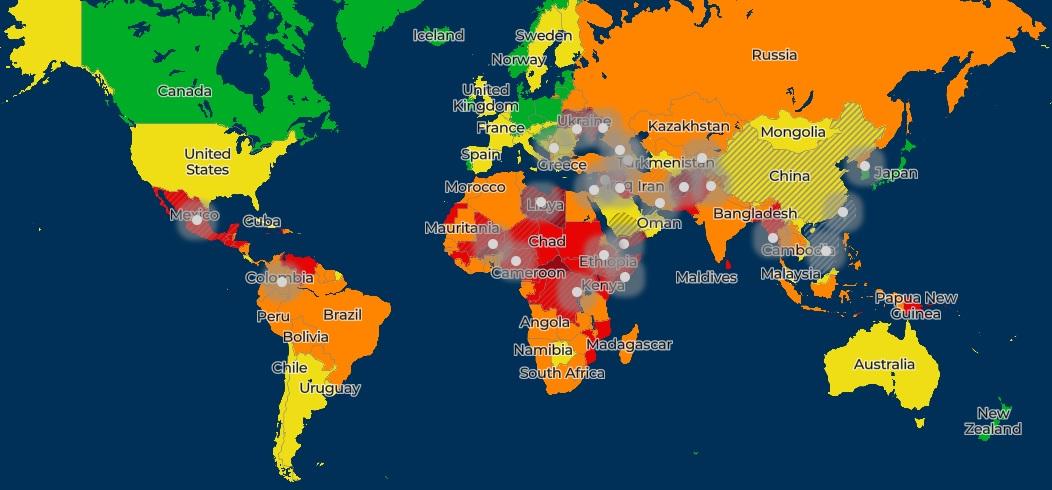 It is noteworthy that the aggressor country Russia, which every day territorializes the civilian population of Ukraine, was classified only in the category of "orange" countries with an average level of danger. For some reason, the raters did not see geopolitical risks there either.
But New Zealand, Canada, Japan, South Korea, Iceland, Greenland, Ireland, Denmark, Norway, Portugal, Cyprus, Germany, Luxembourg, Switzerland, Czech Republic, Hungary, Slovenia, Croatia were recognized as the safest countries in the world in 2022, as well as Poland, Lithuania, Estonia and Latvia border Russia.