In 2023, prices for accommodation in hotels in several popular tourist destinations will rise sharply.
This is evidenced by the results of an analysis conducted by AMEX (American Express) Global Business Travel.
In particular, in Europe, hotel prices are increasing the most in such cities as:
1. Paris, France (+10%).
2. Stockholm, Sweden (+9%).
3. Dublin, Ireland (+8.5%).
4. Amsterdam, the Netherlands (+7.5%).
5. Frankfurt am Main, Germany (+7.5%).
6. London, Great Britain (+6.2%).
At the same time, in North America, hotel accommodation prices will rise the most in such US cities as New York (+8.2%), Seattle (+7.5%), and San Francisco (+7.3%), and also in Toronto, Canada (+6.5%).
In Central and South America, the fastest growth in hotel prices is expected in the capital of Argentina, Buenos Aires (+30%). Prices will also increase significantly in Sao Paulo, Brazil (+7.7%) and Mexico City, Mexico (+6.8%).
In the Asia-Pacific region, the most expensive hotels are in Bangalore in India (+5.5%), Sydney in Australia (+4.3%), and Singapore (+3.9%).
In the Middle East and Africa, price growth is expected in Dubai in the UAE (+7%), in Johannesburg in South Africa (+7%), and Tel Aviv in Israel (+0.9%).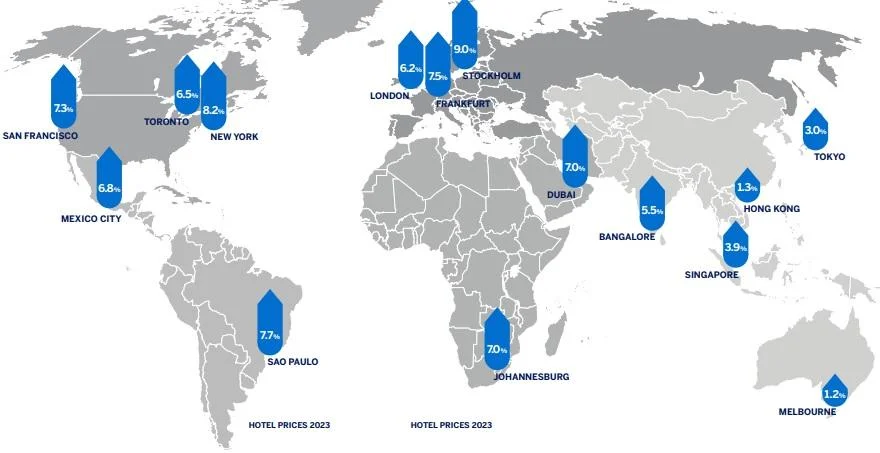 Experts attribute the future increase in prices to the fact that the demand for travel by the fall of 2022 gradually began to return to pre-pandemic levels. At the same time, prices will be affected by high inflation, which is observed in most countries of the world, in particular as a result of the energy crisis provoked by Russia.
How tourism is recovering after the COVID-19 pandemic
The field of tourism was perhaps the most affected by the consequences of the coronavirus pandemic because since March 2020, travel around the world has practically stopped for several months. In the summer of 2020, some countries began to resume tourist travel, albeit with strict restrictions.
By the summer of 2022, most of the countries of the world and, in particular, Europe, have canceled almost all travel restrictions caused by the pandemic, but some countries still left strict quarantine restrictions until the last.
As of early October 2022, Spain remains the only country in Europe with entry restrictions due to the coronavirus pandemic.
At the moment, the world is recording a spike in the incidence of COVID-19, but so far countries do not plan to return strict restrictions, treating the coronavirus more like a seasonal disease.