A teacher in China's Guizhou province has come under fire online after forcing students who broke school rules to "drown" their own cell phones.
A video of the extreme method of punishing naughty children was posted by the South China Morning Post. It shows a high school teacher forcing students to submerge their mobile devices in a pool of water. In the video, a pile of mobile phones is placed on a school desk next to a basin of water, and students can be seen putting their phones into it one by one.
The teacher, who has not been named, told Time Video that "the school has imposed a strict ban on the use of mobile phones, as well as romantic relationships, smoking and drinking." The man added that "a preliminary agreement was reached with parents that children who bring phones to school can be punished, up to the point that they will throw their mobile phones on the floor. The teacher considered this option inappropriate and chose "water procedures".
"Because throwing phones on the floor can be bad for kids, I figured 'cleansing with water' would be a more appropriate solution," said the teacher, adding that the kids had no choice but to comply because their parents were in advance" gave the go-ahead" to this method of punishment.
After the video went viral on social media in mainland China, it drew a lot of criticism from the teacher. Shocked viewers accused the teacher that his method of punishment is "too extreme".
"Can't you just confiscate the phones and return them after school? Do your parents' money grow on trees?" one of the users angrily asks in the comments.
"This punishment shows how incompetent the school is as it fails to educate students in a reasonable way," wrote another.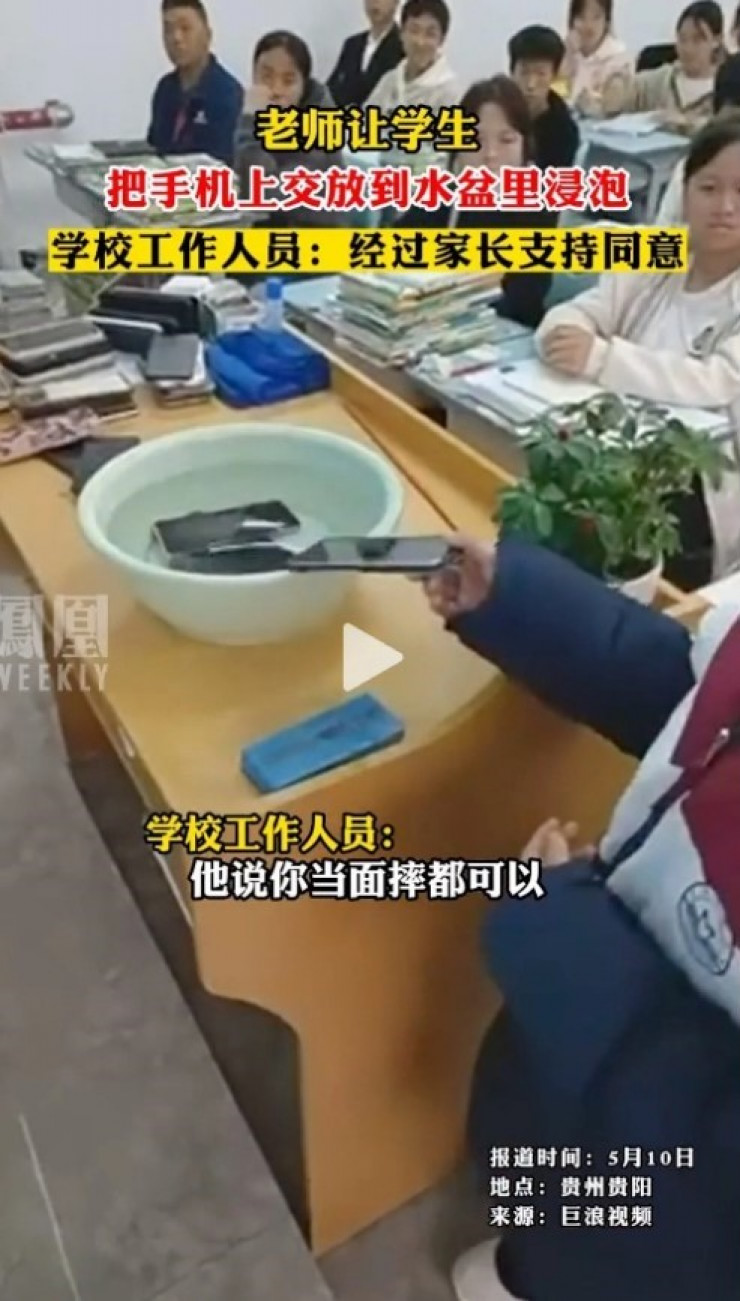 A third suggested that the school was violating the law: "Students can file a criminal complaint for damage to their private property."
"First they told students to do their homework on their phones, and now they are banning them," one user commented, recalling the times of the COVID-19 pandemic, when studies were forced to take place online.
Local education officials were forced to intervene. An employee at the local education bureau told Jimu News that they "criticized and enlightened" the teacher.
"The school cannot spoil things of students even with the permission of the parents," an education official told reporters.