The picturesque Austrian town of Hallstatt (Hallstatt), which has been trying to fight over-tourism for a long time, decided to put up a fence at a popular photo location so that tourists do not take selfies there.
The mayor of the town, Oleksandr Shoyts, explained such measures by the fact that residents simply want to be left alone, Express writes.
For now, a temporary wooden fence has been installed there, the final decision on its fate will be made after public discussions.
Locals complain that tourists flock in droves to the same location that overlooks the famous view of Hallstatt's city church, which you've probably seen on postcards at least once. As a result, it is impossible to pass there.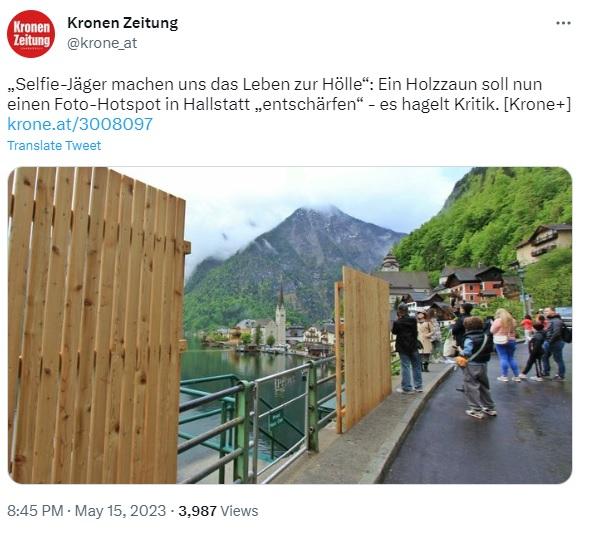 Hallstatt against over-tourism
Hallstatt in the north of Austria is one of the most visited places in the country. The tiny village with a population of less than 800 inhabitants, located on a cliff on the shore of a picturesque lake, is visited annually by about a million tourists.
All residents are engaged in fishing or tourism. But despite the huge profits from tourism, a few years ago Hallstatt officially declared that it could not withstand such flows of tourists.
To combat over-tourism, Hallstatt has decided to introduce a limit on the number of tour buses with large tour groups that will be allowed to enter the village. The town has quite enough tourists who come here by their vehicle or by trains that run here several times a day.
It should be noted that the Austrian town is not the first popular location that decides to fight selfie fans. So, recently in the fishing town of Portofino in Italy, they decided to introduce fines of 275 euros for tourists who "loiter" or linger too long for photos at popular locations. Such locations are now marked as red zones or "no wait" zones.