Washington intends to partially abandon the introduction of sanctions against Nord Stream 2. As reported by the American publications Politico and Axios, this is stated in the report of the State Department, which is due to be presented to the US Congress on Wednesday. It is assumed that the gas pipeline operator and its management will be removed from the threat of restrictive measures.
As stated in the publications, the Foreign Ministry intends to limit itself to measures against four companies and pipe-laying vessels involved in the construction of the gas pipeline. "The sanctions against pipelayers should be enough to delay the completion of Nord Stream 2, which is more than 90% ready," Politico explains one of its sources. Unnamed Axios interlocutors spoke of the Biden administration's reluctance to pressure German consumers of Russian gas and spoil relations with Germany.
Officially, the State Department has not yet confirmed or denied the partial waiver of sanctions against the Russian gas pipeline. The ministry noted that the White House views Nord Stream 2 as a geopolitical project that threatens the energy security of Europe and Ukraine:
"We made it clear that companies would face sanctions for participating in Nord Stream 2."
On the eve, in a conversation with German Foreign Minister Heiko Maas, US Secretary of State Anthony Blinken reiterated that the US does not agree with the construction of the gas pipeline and intends, together with allies and partners, to oppose "Russian attempts to undermine common security." Earlier, the head of the State Department stated that he would not allow the implementation of the project.
Republicans are outraged
Reports of a partial refusal by the Joe Biden administration of sanctions against Nord Stream 2 have already provoked a negative reaction from a number of congressmen. One of the leaders of the Foreign Affairs Committee in the House of Representatives, Republican Michael McCole, said that such a position of the State Department would be a violation of publicly given obligations. Waiver of sanctions, he said, would mean that in reality, the Biden administration never planned to do everything possible to prevent the pipeline from starting up. "This is a project of the harmful influence of Russia, which threatens to increase Europe's energy dependence on Moscow and will make Ukraine more vulnerable to Russian aggression," McCole said.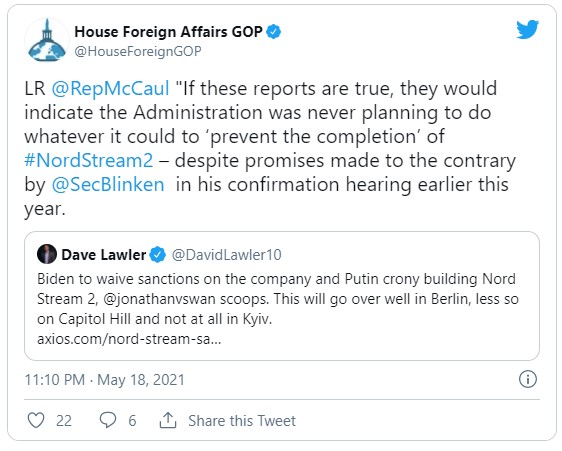 Germany is waiting
The Ukrainian issue in connection with the construction of the gas pipeline was raised by the Minister of Economy and Energy of Germany Peter Altmeier in his speech at the conference "Potsdam Meetings". He emphasized that in parallel with the development of the project, Berlin accepted guarantees of preserving gas transit through Ukraine.
Altmaier said whether the construction of Nord Stream 2 will be completed will become clear within a year. These terms, as the minister notes, depend primarily on the builders themselves, and the German government, for its part, has successfully resolved all political problems in this area.