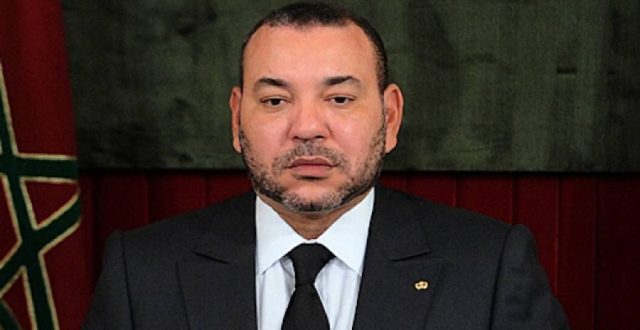 On the occasion of the celebration by the Kingdom of Morocco, in the 30th of July, of the 20th anniversary of the accession to the Throne of His Majesty King Mohammed VI
Morocco the Face of a Modern Africa/Some major achievements under the leadership of His Majesty King Mohammed VI:
His Majesty the king has led a gradual liberalisation of the country, rolling out big infrastructure projects including Africa's only high-speed rail network and the continent's largest port complex.
Morocco's high-speed train, "Al-Boraq", running between Casablanca and Tangier, is the first of its kind on the African continent, inaugurated in November 2018 by His Majesty King Mohammed VI.
Named after the mythical winged Islamic courier, it's an impressive piece of hardware, reaching more than 300km/h and cutting the passenger time to Casablanca to just two hours. It has boosted downtown Tangier, part of a scheme to upgrade cities and infrastructure started by His Majesty  King Mohammed VI on his inauguration 20 years ago on 30 July 1999.
Forty kilometres north of Tangier is the new "Tangier Med port", the second phase of which was opened in June 2019, now capable of handling nine million containers annually. The port operations are concessioned between several operators on 30-year leases, split roughly between containers, car transporters and ferries, together totalling 14,000 ship movements in 2018.
Necked between the city and the port is the "Renault-Nissan" car plant, one of 900 companies in various Special Economic Zones clustered around the port, which fills six 200-car trains a day to "Tangier Med", destined for export.
The Renault plant, which employs 11,500 workers and is the company's third-largest worldwide, produced 402,000 cars in 2018, or one every working minute, of which nearly 360,000 were sold abroad, mostly in Europe.
The two phases of the port and associated logistics infrastructure cost $3.5-billion, sourced from government equity and multilateral and private loans.
On the quayside at "Tangier Med I" were giant wind-turbine blades. This hints at another big Moroccan infrastructure bet.
In the city of Warzazat south east of Morocco, the Concentrated Solar Power (CSP) tower and the 3,000ha of solar panels can be seen blinking from a long way out on the flight approach, hardly surprising since the Inconel-plated 250-metre tower of the 150MW "Noor I" facility heats up to not less than 560°C. "Noor I" alone has half-a-million solar mirrors.
Noor's four stages will, when completed, produce 580 megawatts of power from a combination of (mostly) CSP and (some 70MW) from photovoltaic cells. It's expensive power (at $2.2-billion) and faces long-term technological challenges, including the storage of heat for peak usage, but costs are coming down fast to the point that at $0.08c per Kw/h, the plant presently makes money.
Like the high-speed train and "Tangier Med I" and "Tangier Med II", "Noor" is funded by a combination of government and concessional loans. But Morocco had little option given its dependency on imported coal for most of its energy. It aims to shift the energy mix to mostly renewables by 2030, from a combination of hydro, wind-power and solar.
The lesson of Morocco's contemporary success at delivering and then using efficiently big infrastructure assets is down to a combination of leadership, vision, delivery. Just providing infrastructure is not enough. You need skills and systems too, and a supportive policy environment.
When His Majesty the King acceded to the throne, in 1999, he had a plan and has led the country in a clear direction.
This has included moves to better balance gender rights, roll out social housing on a massive scale, modernise government, and improve the country's foreign relations, not least through a big diplomatic and economic push into Africa.
Morocco now enjoys preferential trade relations with 55 countries. The state-owned airlines company "Royal Air Maroc" has, too, been part of this push, especially in expanding its operations to include 33 African destinations in 28 countries.
The share of government financing has come from two sources: An increase in borrowing and thus the fiscal deficit to more than 3% of GDP. There has, too, been a threefold real increase in the tax take in the past 20 years. As the spending catalyst for growth kicked in, so too did revenue expand.
The positive cycle does not end there. The Renault plant has a government-funded training facility alongside, which has produced more than 10,000 graduates since the factory opened in 2012. With more growth has come greater demand for talent.
Likewise, the Aerospace Hub clustered around Casablanca employs 16,700 in 140 companies, now a $1.7-billion industry for Morocco, making everything from wings to wiring harnesses for the likes of Boeing, Airbus and Bombardier. Workers are trained at a government-funded facility, "Institut des Métiers de L'Aéronautique (IMA)", inside the free zone which has produced 7,000 graduates since 2011.
Firms are no doubt attracted by labour rates, which, at $350 per worker per month, are a fraction of European costs with virtually identical geography and thus logistics.
In aerospace, the critical drivers are innovation, cost and talent, and Morocco is the place to be if you want to be competitive in Europe.