Turkey is preparing to close its airports to Russian airlines flying "sanctioned" American-made planes.
As "Aviatorshchyna" reports, the largest Turkish operator of ground handling of flights, Havaş, has announced that it may completely stop working with liners of carriers from Russia that have fallen under the export sanctions of the United States, which provide for a ban on refueling, maintenance, and repair of such boards abroad – in general, under threat 170 planes ended up.
In this regard, Havaş has advised Russian airlines to plan flights to Turkey only with aircraft containing less than 25% US-made parts, as these are the only aircraft it is allowed to operate.
It is noted that the corresponding letter from Havaş was received by some Russian airlines at the end of December 2022. It says that the US Department of Commerce's Bureau of Industry and Security has sent warning letters to companies in the Turkish aviation industry that servicing US aircraft of Russian and Belarusian airlines subject to US export restrictions is a violation of the Export Control Regulations.
In this regard, Havaş decided to conduct a comprehensive review to identify the risks and implications for its business and stakeholders.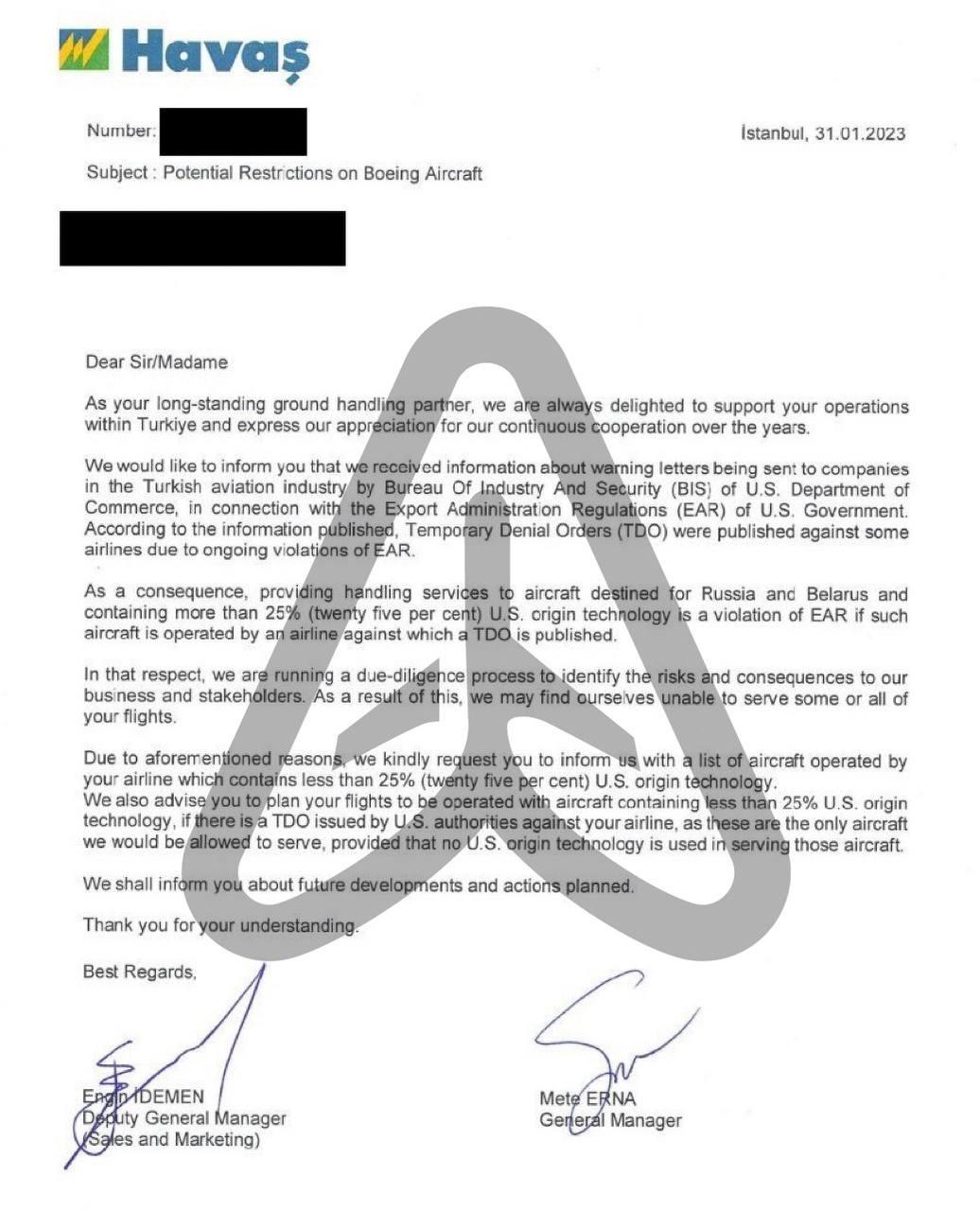 "As a result, we may not be able to serve some or all of your flights," the Turkish operator warned Russian airlines. He asked them to provide a list of aircraft that contained less than 25% American-made parts.
Note that on January 26, The Wall Street Journal reported that in December of last year, high-ranking American officials threatened Turkish individuals with prison terms, fines, and the loss of export privileges if they provided refueling services and spare parts for American-made aircraft flying from Turkey. to Russia and Belarus and back, violating export controls introduced last spring.
As UNIAN reported, as early as the summer of 2022, Bloomberg warned that Russian airlines could "hide" in Turkey due to sanctions. Such a decision would allow them to bypass the imposed bans and service the planes.