As we head into 2022, the latest Henley Passport Index results show record levels of freedom to travel for the top-ranked countries Japan and Singapore.
But it also has the widest global mobility gap since the index was created 17 years ago.
Excluding the changing and temporal constraints associated with Covid, passport holders from these two Asian countries are currently able to travel visa-free to 192 destinations around the world – 166 more than Afghanistan, which is at the bottom of the index.
This widening gap in international mobility between richer and poorer countries came to a head late last year with the emergence of the highly infectious variant of the Omicron virus, which was met with a series of punitive restrictions on predominantly African countries, which UN Secretary-General António Guterres called "tourism apartheid" … This is despite the fact that over the past decade and a half, the overall level of freedom of travel has grown significantly.
According to the historical data of the Henley Passport Index, which ranks all passports in the world by the number of destinations their holders can go without a preliminary visa, and is based on the exclusive and official data of the International Air Transport Association (IATA), in 2006, an average person could visit 57 countries without the need to first obtain a visa. Today that number has risen to 107, but behind this overall increase masks growing inequality between countries in the global North and the global South: citizens of countries such as Sweden and the United States can travel without a visa to more than 180 countries, while passport holders from Angola, Cameroon and Laos can only enter 50.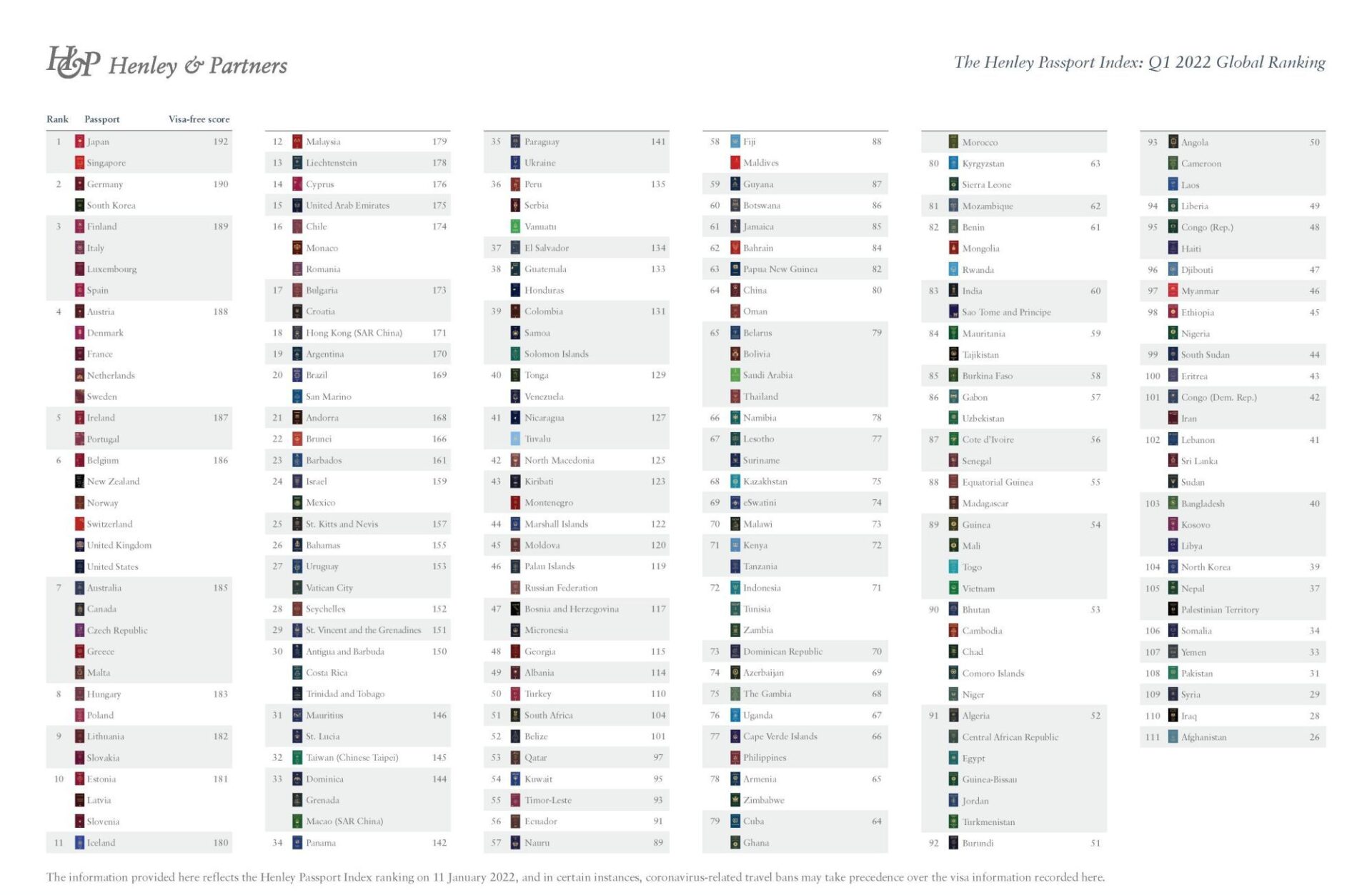 Covid-19 exacerbates inequality in global mobility
Germany and South Korea tied for an overall 2nd place in the most recent ranking, with passport holders able to travel 190 visa-free destinations, while Finland, Italy, Luxembourg and Spain share 3rd place with 189 points.
US and UK passports have regained their previous positions after dropping to 8th place in 2020 – the lowest place each country has held in the 17-year history of the index. Both countries now rank 6th with a visa-free / visa-on-arrival score of 186.
Dr. Christian H. Keilin, chairman of Henley & Partners and the inventor of the passport index concept, says opening up migration channels is essential to recover from the pandemic. "Passports and visas are some of the most important tools for influencing social inequality around the world as they define opportunities for global mobility. The boundaries within which we were born and the documents we are entitled to hold are no less arbitrary than color. wealthier nations should encourage positive internal migration to help reallocate and rebalance human and material resources around the world, including improving the size and quality of their own workforce. "