Too many people in the Netherlands are still infected with the crown virus. The pressure on the hospital is still too great. Therefore, the Cabinet of Ministers is not going to relax further, it is unjustified.
Minor corrections have been made to a number of existing measures.
From March 31 there may be more places to rest. Only if the numbers allow, for example, terraces and shops can open in strict conditions.
All current events will last until March 30.
Another press conference will be held on March 23 to discuss what can be done after March 30.
The curfew is extended until March 31 at 4:30 am.
This means that everyone stays at home from 21:00 to 4:30.
There are a few exceptions to the election.
The travel council is valid until April 15. This means: stay in the Netherlands.
Do not travel until April 15.
If you are traveling outside the Netherlands, travel only when absolutely necessary.
On March 23, the next press conference will provide information on travel for the next period.
Minor adjustments to measures
The Cabinet of Ministers is making a number of minor adjustments to existing measures.
The following adjustments apply from Tuesday, March 16:
Swimming lessons are available for children under 12, so they can get a certificate A, B or C.
Purchases by appointment in stores are allowed with two buyers on the floor or with one buyer on 25 square meters. meters. All keep a distance of 1.5 meters from each other.
The store can have no more than 50 customers at a time. There is still a rule that people sign up for an appointment for at least four hours, and that the store is open at intervals of at least ten minutes.
Sport
Adults aged 27 and over are allowed to play sports outdoors in sports facilities with a maximum of four people. The conditions are such that they keep a distance of 1.5 meters.
Until the age of 26, it was possible to play sports at sports facilities in a team without adhering to a distance of 1.5 meters.
The municipality can offer more opportunities for organized sports outside of sports facilities.
Theoretical exams
Theoretical examinations and lessons aimed at driving or servicing a vehicle may again be organized. This only applies to people who need it to perform certain professions or for certain companies.
People who have been prescribed an educational measure to improve their driving behavior can also retake the theory test.
Travel
The ban on flights and shipping for the United Kingdom has been lifted. The British version of the corona virus has already spread in the Netherlands, so the ban on flights no longer makes sense.
The ban on entry into the Netherlands from the UK will no longer apply from 9 March 00.01 Dutch time.
The current testing obligations for UK travelers will remain in place, as will the urgent quarantine recommendations.
The entry ban has been extended
The entry ban applies to travelers from outside the EU. The list of exceptions to this has been temporarily suspended for a number of groups. These exceptions apply again.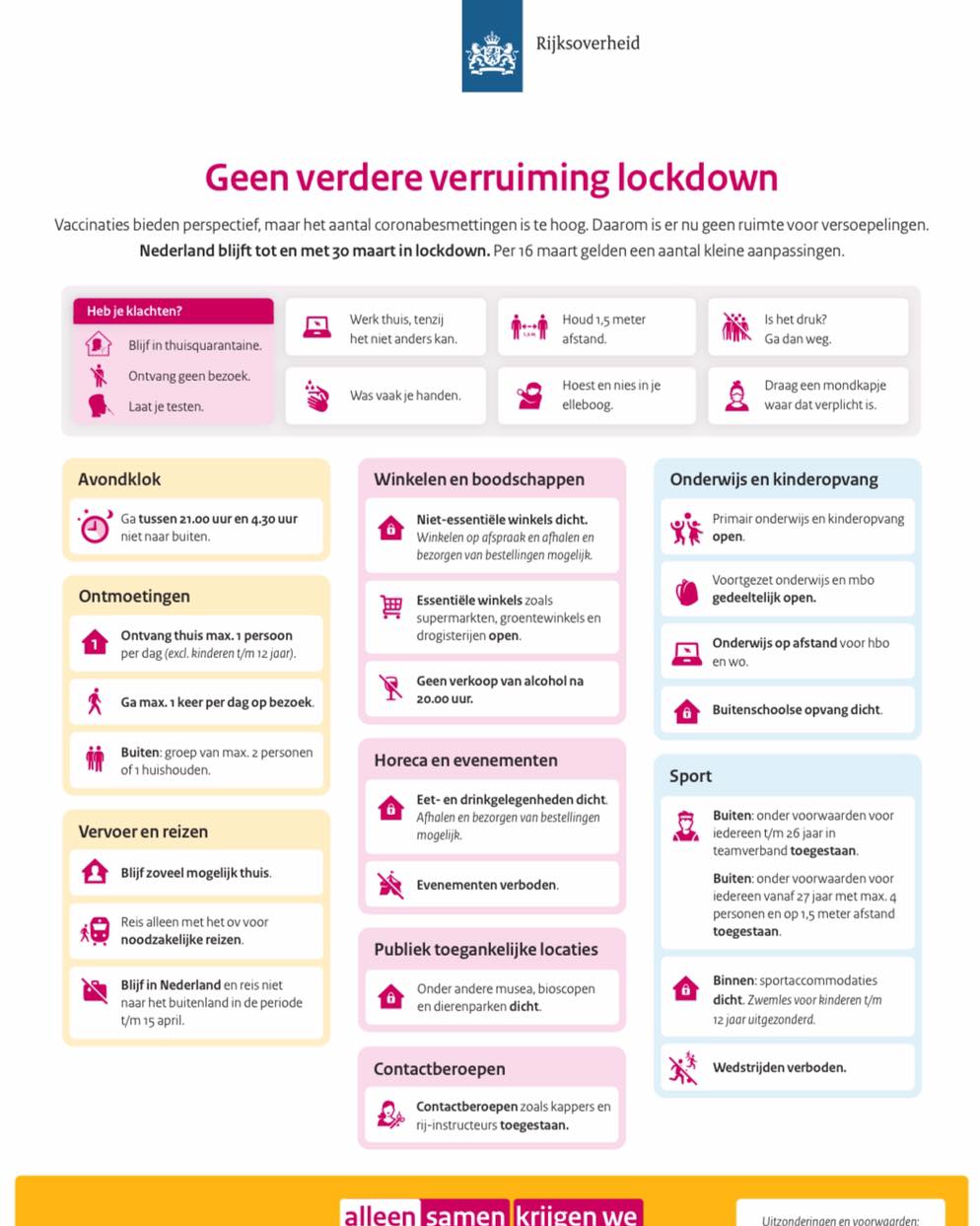 This means that the following groups can re-enter the Netherlands:
business travelers
students
highly qualified
migrants
professionals of the cultural and creative sectors
lovers of long trips
Organization of visits to nursing homes.
Up to two visitors a day are allowed for residents of homes for the elderly who are being vaccinated. These can be different visitors during the week. This rule takes effect immediately.
A number of rules are expected to be relaxed from Wednesday, March 31.
This can continue only if the number of occupied intensive care beds remains stable, and the number of reproductions of the virus will be within – 1. The decision will be made on March 23.
Terraces
After March 23, entrepreneurs in the field of catering can open outdoor terraces under certain conditions. For example, registration and seating are required. Up to fifty people can sit on the terrace.
Retail
There will be more opportunities for further opening of stores.
Guests
Two people over the age of 13 are allowed to visit every day.
Education
Under certain conditions, there will be more opportunities for higher professional education (HBO) and university education (WO). Students can physically study no more than one day a week.
Vaccination
Vaccination also affects the number of infections. More and more older people are getting injections. This reduces the number of infections in nursing homes.
It is currently expected that in July, all those wishing to be vaccinated at the age of 18 will receive the first vaccination.