With the advent of mass vaccination programs around the world, the world hopes to return to everyday life soon after COVID.
Since the first vaccines against COVID-19 were approved around the end of 2020, vaccine passports have been discussed by scientists, politicians and medical experts as a possible way to allow vaccinated people to move more freely.
What is a vaccine passport?
The vaccine passport is a confirmation of vaccination, which may be required as a condition of entry or service. This is digital documentation that the person has been vaccinated against the virus, in this case against COVID. This is most often considered for international travel, but some domestic services are also discussed.
Vaccine passports provide a reliable but understandable system that can help travelers move as smoothly as possible through a tangle of restrictions while protecting privacy. They can also be used for large events such as sports competitions and concerts, or to enter places where it is difficult to maintain social distance, such as theaters, nightclubs and bars.
In order not to be mistaken for an "immunity passport", the so-called COVID passport is a means of verifying a person's COVID credentials, including vaccination status, recent test results and COVID recovery status for those who have previously been infected with the virus. Meanwhile, the vaccine passport may be limited to showing only the vaccination status against COVID.
How can I get a vaccine passport?
Although there are currently no internationally recognized vaccine passports, various groups are working to develop these vaccine passport programs, with the two most notable examples being the Common Pass and the IATA Travel Pass.
CommonPass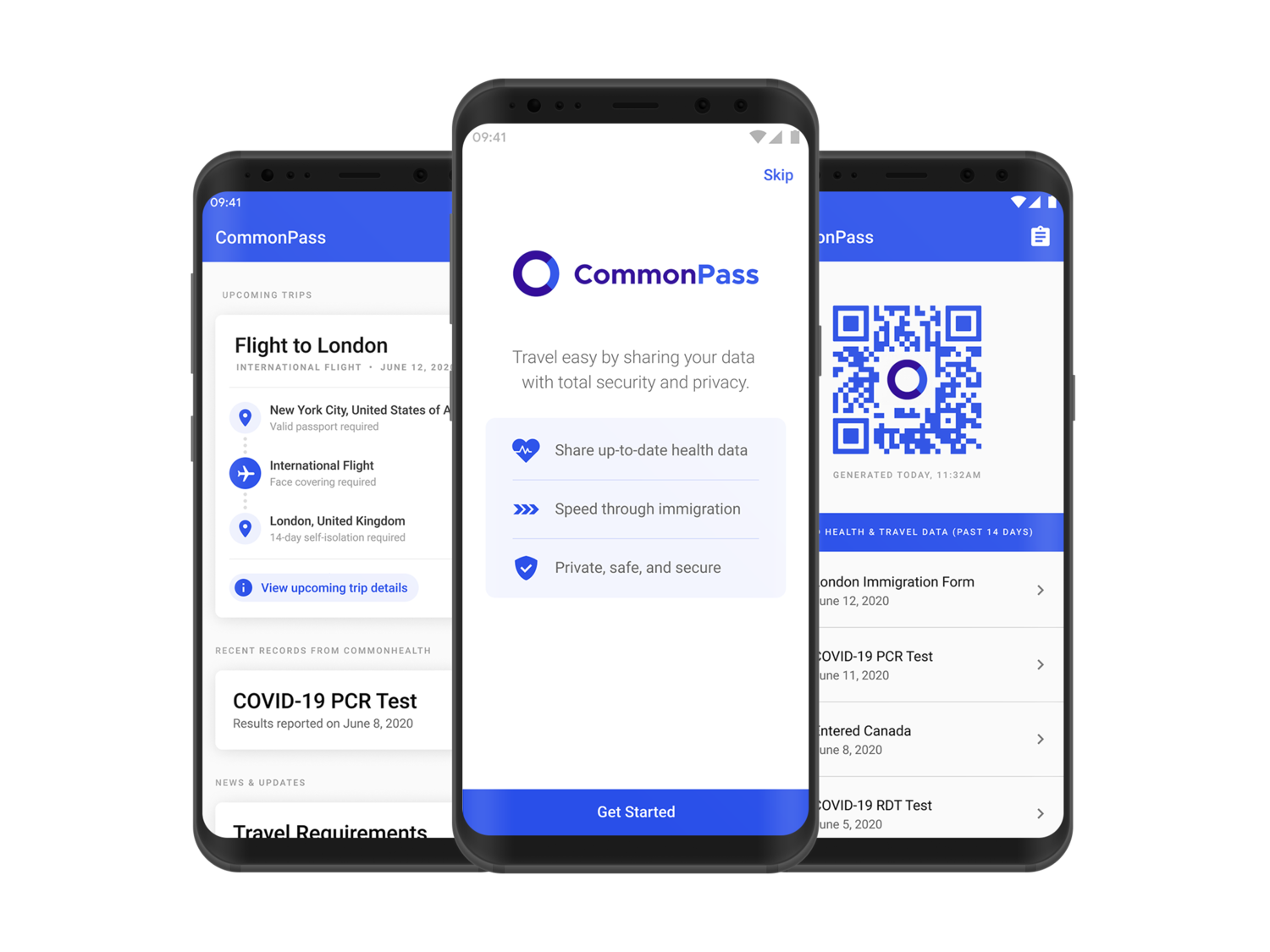 The Commons project, the World Economic Forum and a broad coalition of public and private partners are working together to launch CommonPass, a reliable, globally compatible platform for people to document their COVID-19 status (health declarations / PCR tests / vaccinations) and requirements before entering the country, protecting the confidentiality of their health data.
The CommonPass platform evaluates the results of laboratory tests or recordings of vaccinations that come from a reliable source, and meet the requirements for a medical examination of the country where they want to enter.
Laboratory results and vaccination records can be accessed through existing health data systems, national or local registries, or personal digital health records (Apple Health for iOS, CommonHealth for Android). Apple Health and CommonHealth allow people to securely and privately store their medical records on their phones, completely under their control.
In February, Qantas completed a trial run of the CommonPass Digital Health program on an international repatriation flight from Frankfurt to Darwin. With the program, medical or border guards and airline staff can quickly check the results of the COVID-19 test and the history of human vaccinations.
IATA Travel Pass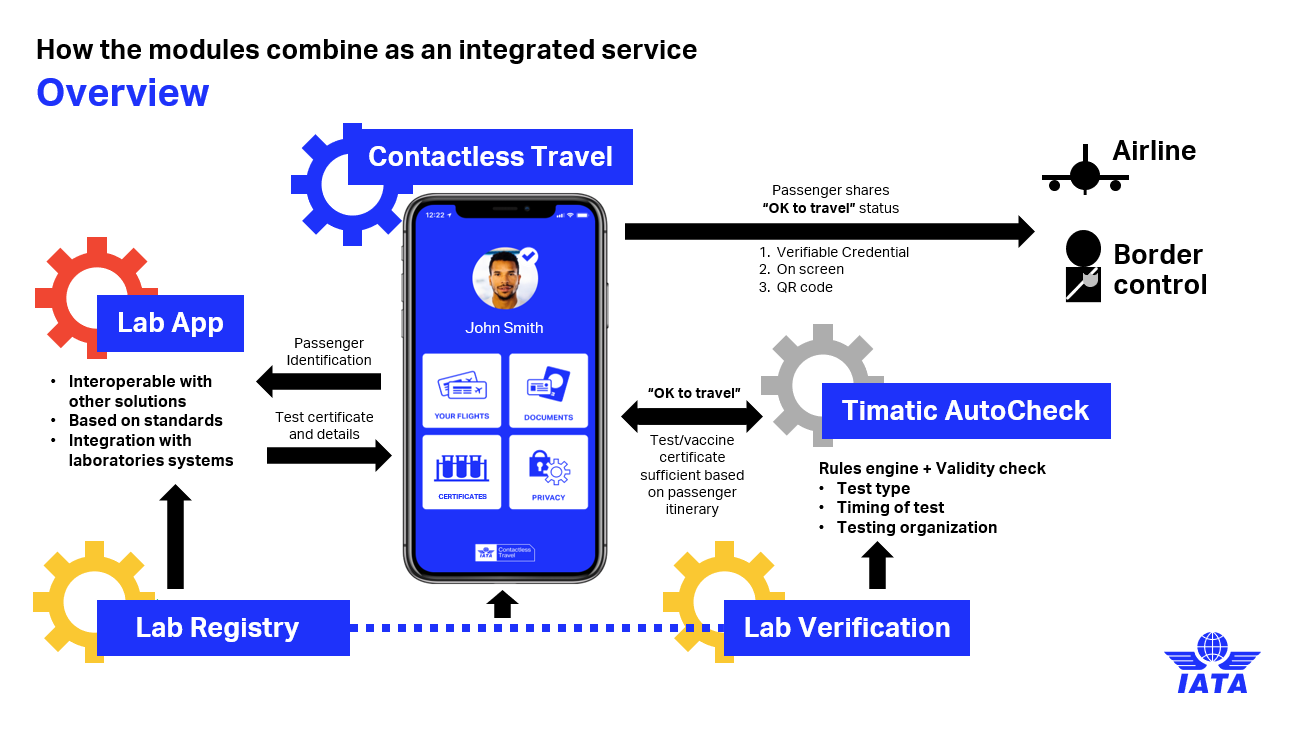 IATA Travel Pass is a mobile application that helps travelers store and manage their validated certificates for COVID-19 tests or COVID-19 vaccines. This will be important for governments that are likely to need validated testing or confirmation of vaccination as a condition of international travel during and after the COVID-19 pandemic.
IATA Travel Pass has four open and compatible modules that together create a end-to-end solution. IATA Travel Pass includes:
Global Health Requirements Register – allows passengers to find accurate travel information, testing and, ultimately, vaccine requirements for their travel.
Global Register of Testing / Vaccination Centers – allows passengers to find testing centers and laboratories at their place of departure that meet the standards for testing and vaccination as intended.
Lab App – allows authorized laboratories and test centers to securely share test and vaccination certificates with passengers.
Contactless Travel Application – allows passengers to (1) create a "digital passport" (2) obtain test and vaccination certificates and make sure they are sufficient for their route, and (3) exchange test or vaccination certificates with airlines and authorities for travel. Travelers can also use this app to digitally and seamlessly manage travel records, enhancing the travel experience.
IATA was first tested in cross-border pilot schemes in late 2020. The full launch of the iOS and Android apps is expected to be fully operational when governments reopen their borders for international travel.
Current status of vaccine passports worldwide:
When it comes to international travel, vaccine passports are key to resuming tourism, as more and more countries open their borders to vaccinated travelers.
Despite the recognition of a globally acceptable vaccine passport, several countries have issued their own vaccine passports and travel tickets. Here is a brief overview of its current status, how to apply and eligibility.
New York's Excelsior Pass
For household needs, New Yorkers can now use the recently launched Excelsior Pass as a means of checking vaccination status and the latest test result. Developed alongside IBM, Excelsior Pass works through a smartphone app that can generate a QR code that confirms their suitability.
The Excelsior Pass runs online and can be used to get to large-scale venues such as Madison Square Garden, as well as many entertainment and wedding ceremonies, funerals and other social events. It is also worth noting that New Yorkers without smartphones can print a QR code and submit it to the appropriate authorities. The Excelsior Pass app can be purchased for Android here and for iOS here.
Digital vaccine certificate of Iceland
The Icelandic government requires its citizens to obtain digital vaccine certificates. The Ministry of Health has decided that vaccination certificates that meet the recommendations of Iceland's chief epidemiologist and are issued in the EEA / EFTA countries will be valid at the Icelandic border. Those who present such a certificate are exempt from official restrictions at the border and are therefore not required to pass a check.
Iceland now allows all travelers to travel to the country if they have a vaccination certificate from COVID-19. The Ministry of Health has announced that if the traveler has a vaccination certificate issued by the European Medicines Agency or the World Health Organization, no further checks are required.
Vaccine card, UAE
The vaccine card shows complete information about your vaccination status – if you have received a dose of COVID-19 vaccine or have been fully vaccinated, ie you have received both doses of COVID-19 vaccine and finished 28 days after the second dose.
Emiratis can now upload its vaccine card to the Al Hosn program, which will act as a national registry of CAB vaccines. You can also download and share your official vaccination reports in PDF format in the app via email or message. The information is presented in English and Arabic on official forms. You can download the Al Hosn app from Google Play or the Apple Store.
EU Covid card
The European Union will soon offer a Covid Card, called the Digital Green Certificate, in the 27 Member States and countries of the European Economic Area as a key step towards restoring international borders. It will consist of three documents that certify
whether the owner received the vaccine, and if so, which one
whether coronavirus test results were taken
details on whether he was cured of COVID-19 infection.
The pass will cover all the different images approved by the European Medical Agency (EMA) and allowed for emergency use in the member states. Recently, European leaders have agreed to continue developing plans for a pan-European digital green certificate as an "urgent issue". The vaccine ID, which is likely to be available by June, will be available in digital or paper format.
Corona Pass of Denmark
Denmark was the first country in Europe to confirm its use of digital passports. Denmark plans to use its Corona pass vaccine in the country from Easter, but later it can also be used as a tool for international travel.
Denmark already has a secure digital identification system called NemID, and the Corona omission will be associated with this. NemID provides Danish citizens with access to various online platforms, including a digital list of medical records and test results.